I love the black and white photos from our wedding. They go perfectly with the Silhouette paper pack. These eight pages will go into a 9x9 accordion album. I'm just not that far yet, besides it's easier to take pictures this way. The first page is of my mom walking me down the aisle. I look a little freaked out. LOL! I know I was thinking a lot of thoughts at the time and I was very emotional but I was really worried about falling down as I walked down the aisle towards Mike. It had rained sheets the day before and the ground was still soggy.
This next page is of me lighting candles in memory of my Dad and Brother who had passed away the year before.
Our wedding vows and me doing the I'm trying not to cry look. I'm not very good at holding back the tears at emotional times.
Us being introduced as Husband and Wife. I love the look on my face in this one.
Our wedding party.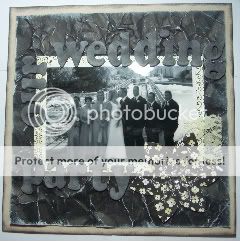 Some of our photo opts.
Me and my Sis, who was also my Maid of Honor. I love this pic too. We were laughing so hard.
And finally a couple of the pics from our reception and first dance.