It has been snowing here since about 1am. I'm not sure how much has accumulated yet but my guess would be over 40cm so far today. A beautiful winter storm. I tend to like them, just not the remnants of them in April. The kids played outside after school. Yes they still went, lucky kids. It wasn't snowman snow so they started a fort instead. They had fun throwing it at me and the little one enjoyed eating it! We'll save the snow lesson for next year when he understands a little better. At least it was fresh!
This is Quintin waiting for the bus.
This is my oldest Drake.
This is my Daughter Cassidy.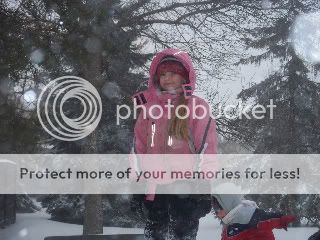 Working on the fort.
Throwing snow at me, check out the diva's earings. LOL!
Here he is tasting the snow.
LOL!