These are the lovely cards that I received from my swap with fellow CTMH consultants on Saturday. This group of ladies have some major talent going on don't ya think? Not only as far as paper crafting goes but in the kitchen apparently as well! Hehe. The food was sooooo good! I can't even tell you what I liked the best it was ALL so good!
This card was made by the very modest Wendy. She used the Cupcake Sprinkles stamp set. She embossed the bottom part of the cupcake and used GLITTER on the icing part, and adorned with a little bling for the cherry. Super sweet!
This card was made by Kelly. She was so sweet bringing all of her swap cards to us in the afternoon along with a little treat, since she couldn't make it :(. Her card base was made using our old bragging tags. She used the February SOTM(stamp of the month) Easter Eggs, the Just Blooms paper flowers in Autumn Leaves, some vineyard berry grosgrain ribbon which she sewed a piece of thread though to give the gathered effect. Love that!
This card was made by fellow blogger Marie France. To view her work go to
http://www.mfkupo.blogspot.com
She has some great ideas! She used the You Rock ss. She embossed the guitar and popdotted it. I love how she took a very masculine pp(IMOO) and made it girly with the hollyhock pink! She ROCKS!!! LOL!
This next card was made by the very funny Ginger. She has some wonderful ideas on "new stamp sets" :O. She used the March SOTM, Butterfly Wings. She stamped the cs behind the image and then popdotted only the body of the butterfly to that image, folding the wings up to give a 3D effect. She also added some bling to the wings.
The next card was made by my fabulous up line and friend Joy, who formally introduced me to CTMH about 3 years ago. This is a swinger card, using a pendulum method.(So cool) Those little hearts swing back and forth! She used the Love Language ss, and the That's Amore pp which I love! Beautiful card! I love the pin! ;) Yes we already know I love those!!!!
The incredible Connie made the next card, paper piecing the Happy Endings stamped images together. Adding some tiny bling to her tiara. She also has an awesome technique for stamping on ribbon(the white one says happy birthday like the bottom of the card). Use hairspray on your ribbon, letting it dry first, then stamp your image to prevent smudging. Genius!!!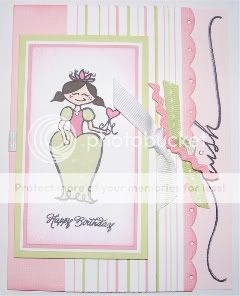 And last but not least the extremely talented Florence. Her card features the Dream Wishes ss. With the Emporium pp. she popdotted the little r to add dimension. But she wasn't done here! She made us all these fab little chap stick holders that said sealed with a kiss, and when you open them they say I'm stuck on you! What great little gifts. Hostess gifts, party favors you name it. Then she made these little water bottle snack holders. You hang it over your water bottle, add a single drink mix packet and a small snack to the pouch. Another great little gift for say workshops! LOVE THEM ALL!
My card is featured in the post below.
So as you can see I am lucky to be surrounded by incredibly talented, super supportive, circle of fellow consultants and friends. We don't all always see each other often but when we do you know that there will be lots of laughs and great work shared by all! I'm so looking forward to our next "crop day" and Calgary!!!!